Radius Studio is a community space offering workshops, facilities, and services for anyone serious (or curious) about art. Working to accommodate both the beginning and experienced artist, we offer professional facilities and instruction of several art disciplines in a supportive and creative environment.
Founded in 2002 by Kim McKenna and Mark Brandau (two practicing artists and art-educators), Radius Studio began with a few after-school drawing workshops in a small apartment. Seeking to create a more dynamic art space for the community at large, the studio expanded into a warehouse/creative space in the rapidly developing inner-SE of Portland in the summer of 2003. With the extra space, a modest ceramics studio and printing press were added along with additional curriculum in super 8 filmmaking, oil painting, and figure drawing. By late 2003, however, the warehouse was slated for redevelopment and after only 6 months Radius Studio was forced to find a new home.
In February 2004, Radius Studio re-opened in its second location (formerly a rambling warehouse filled with bird-feeders & doorstops in the thriving Division/Clinton neighborhood). The studio was able to thrive in that space for three and a half years, expanding its workshop offerings and serving as a production space for 16 members (ceramicists, painters, and printmakers). In the spring of 2007, the owner sold the building to a development company and Radius was forced to find yet another home.
In the summer of 2007, the studio secured a long term lease in its original neighborhood of inner-SE Portland. With this new space, Radius essentially doubled in size. This allowed us to add private studios to our roster of offerings and we built 10 spaces into the existing floor plan of the (two story) building. Since that moment, the studio has been working to become a comprehensive resource for artists of all levels – a community space where artists can create, learn, and grow in a variety of media.
In the summer of 2014, Korin Schneider took over management of the studio, as Mark and Kim stepped back to raise their family and focus on other work projects. Korin gave Radius a fresh coat of paint and added some new equipment and learning opportunities to the studio agenda. Currently, Radius Studio serves as production space for 50+ members and is the home of many practicing artists whose media include painting, ceramics, fashion design, sculpture, leatherwork, fibers, illustration, printmaking and more.
Who We Are
Korin Schneider (Studio manager, Art Educator)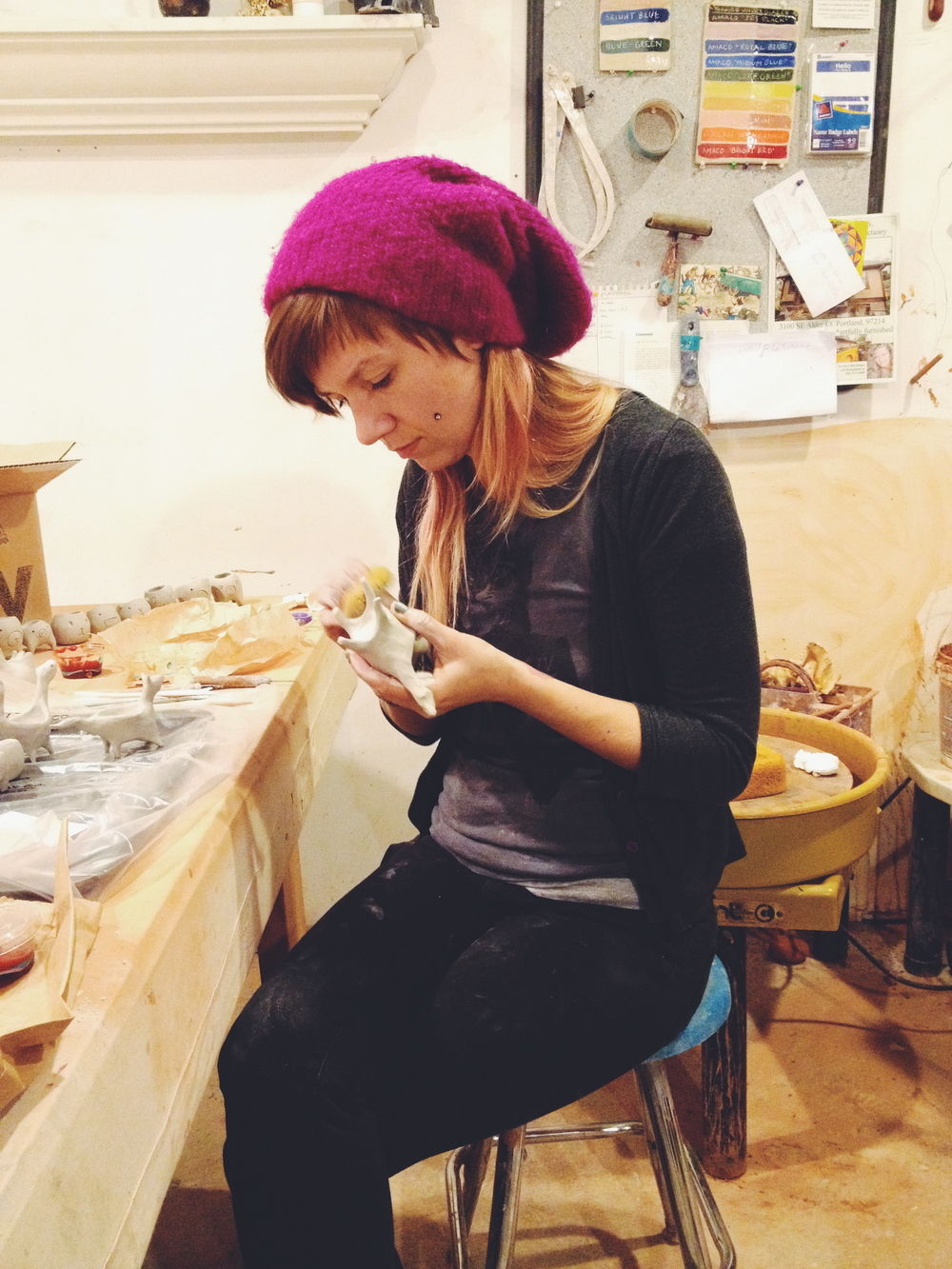 Korin Schneider is a working artist and an art educator. She graduated from the University of Wisconsin, Milwaukee in 2007 with a BFA in ceramics. During her time at UWM, Korin received several awards and grants including the Mary L.  Nohl travel fellowship. She also spent a month abroad studying art and culture in South America. Although her focus was clay, Korin also worked with various types of printmaking techniques. Her BFA show reflected her efforts to combine aspects of both printmaking and clay. Currently, Korin is living and working in Portland, Oregon where she runs Radius Community Art Studios. Visit her etsy shop at bangbangcrafts.etsy.com or find her work in shops around the Northwest including Crafty Wonderland, Tender Loving Empire, Amelia, Menagerie, Altar, and Schmancy Toys. Check out her website BangBangCrafts.com.
Jolyn Fry (Art Educator)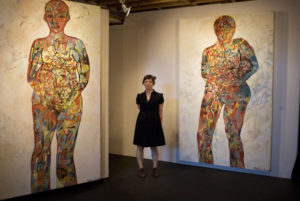 Jolyn Fry graduated from Pennsylvania School of Art and Design in 1996. She has exhibited her continually evolving body of work in many group and solo shows. Her work depicts literal physical landscapes and abstractions of a more personal nature. The following written by a Radius student about Jolyn..
"This message (kind of a "Yelp review" I guess), is for anyone in PDX who is interested in oil painting or acrylic painting from a very beginning student to an advanced painter or somewhere in between… I highly recommend taking studio classes or seminar time at Radius with Jolyn Fry. She is a wonderful artist and teacher, she establishes a legit space to learn and create, it is relaxing, non-competitive, yet as serious as you wanna make it and take it. Jolyn is very kind and does what she can to help you succeed. (Plus she has bad ass east coast grit realness left in her, so don't be fooled) Because she is a long time established painter herself, she can talk the very basics to the most advanced art banter and seems to intuit what her students need, from basic tutorials on theory and advice to just a little hello check in that breaks you when maybe you as a student are overdoing it, haha. LOVE her classes!" -JH
Jolyn currently paints and leads artist workshops at Radius Studios in Southeast Portland.
For more information about Jolyn and her work please go to @jolynfry.
Alyssa Black (Art Educator)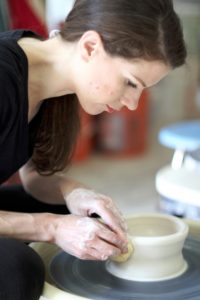 Alyssa Black is best known for her intricate wheel-thrown and altered porcelain forms, through which she explores the theme of transcendence. She states, "My art serves as a personal and collective guide to freedom, serenity, and joy. I push the limits of the medium and process to create objects that evoke a sense of wonder and delight." In addition to her private studio practice, she leads community ceramics workshops. She is also a published author and has been featured in Ceramics Monthly. She has been at Radius since 2011. For more information, visit alyssablack.com.
Lady Jane (Art Educator)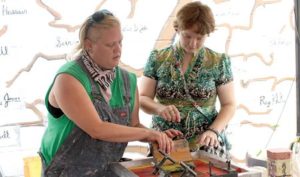 This Georgia Peach was born and raised in the Dirty South. She received her degree in graphic design/printmaking in '98 and comes from a long line of artists. She loves sharing her skills in Screen Printing and Street Art.  She has done so through Girls Rock Camp Atlanta  and Portland for Seven years as well as various music and art festivals nation wide. When she is not teaching other people how to find joy in her craft she is coming up with new designs for her own small business Purse Jerky!
Alex Simon (Art Educator)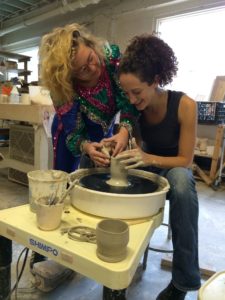 Alex Simon is an east coast native, who moved to Portland to peruse a career in ceramics after graduating with an art degree from Benninton College.  She has been throwing, slip casting, and mold making for small businesses for nearly 6 years.  In her personal work, she tries for bring playful elegance to otherwise kitschy items, giving them a new purpose in modern lives.  She currently teaches Saturday throwing classes at Radius, where you can also find her making her own work.
Jessica Faulk (Art Educator)

For over a decade Jessica Faulk has made ceramics her full time passion. She's pursued the study of ceramics at Alberta College of Art & Design, Penland School of Craft, and assisted in countless workshops across the country. For the past ten years she worked full time as the head instructor and studio manager at Potters Place, near Houston, TX. Jessica makes functional ceramic forms with an emphasis on several surface techniques. The surfaces of her pieces are highly embellished, but compliment the form and function of the work. Connect with Jessica at jessicafaulkceramics.com
Laura Kirby (Lab Technician)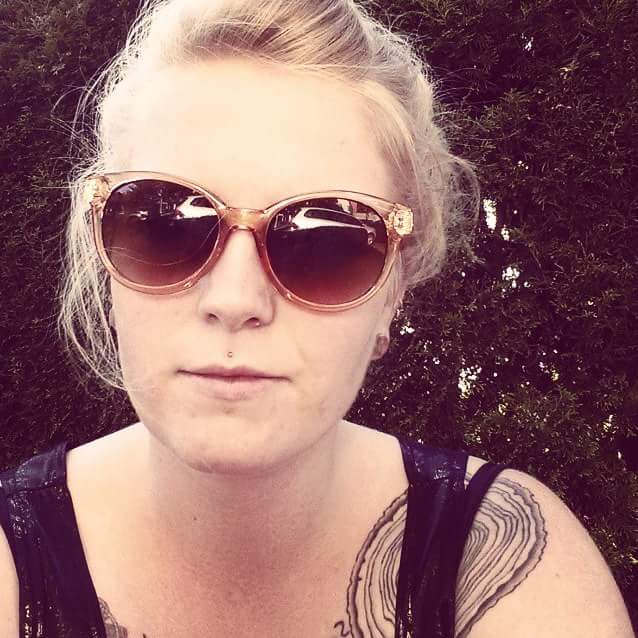 Laura Kirby is new to Portland and is also the newest addition to our lab tech team. She has been interested in making art all her life, and started wheel throwing in 2009. She is excited to be here and to get back on the wheel again!
Carly Larsson (Lab Technician)
Carly is an illustrator and multidisciplinary artist with a BFA in Communications Design from Pratt Institute in Brooklyn NY. She currently resides in North Portland.
Theresa Somrak (Lab technician)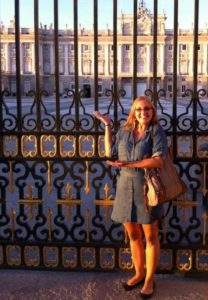 Theresa, originally from Alaska and Minnesota, has felt lucky to call Oregon home for the past 12 years.  When she's not at work in a brewery, you might find her riding her bike, eating a burrito, or making herself a nightcap.  She loves movement arts and hand building with clay (not at the same time… usually), especially enjoying ceramic's capacity for texture and surface design.  Theresa believes art is an important therapy for everyone, no matter skill level or product, and is excited to be a part of such an inspiring community as Radius.
Mae Stephenson (Lab Technician)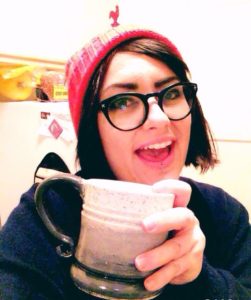 Mae runs a queer resource center by day and spends a lot of her off time learning more about the art of ceramics. She recently moved back to Portland from Tacoma, WA where she fell in love with clay and interned with Spun Clay Arts Studio. She's hoping the third time's the charm when it comes to living in Portland and feels very lucky to have a new home with Radius Community Art Studio.